The key is to connect the Monasterevin/Rathangan tourist hub to the Kildare Town Tourist Hub. 
The Kildare Town Tourist Hub includes Kildare Village (4 million visitors+), National Stud/Japanese Gardens, 
Curragh Racecourse, Kildare Heritage Town, St. Brigid's Cathedral & Round Tower.
The proposed peatland park would bring a significant new tourist attraction into the area which would create a tourist hub linking the towns of Monasterevin and Rathangan, via the Barrow Way Blueway, and also rural cycling routes. This would directly boost the tourist potential of Monasterevin and Rathangan to provide tourist facilities such as accommodation, food and drinks, shopping, bike hire, transport & tours and other services. Monasterevin is beside the M7 motorway and has a train station on the Umeras side of the town. People could arrive by car, bus or train and hire a bicycle to explore the area, potentially staying in either Monasterevin or Rathangan.
The aim is to rehabilitate Umeras bog as part of a tourism initiative, and to continue the tradition of turf-cutting. 
Umeras bog is approximately 600 acres, comprised of 500 acres of cut-away bog, 40 acres of raised bog and 60 acres of birch woodland, drains, bog railway and a works yard. The site is currently drained, but when the internal drains are blocked some areas will become wetlands while drier areas will become semi-natural grassland and scrubland.
The site is very much a blank canvas in terms of how the biodiversity and amenity value of the site can be developed. Bord na Móna has the contract to re-wet the decommissioned peatlands to maximize carbon capture and this work would be complementary to the development of a peatland park.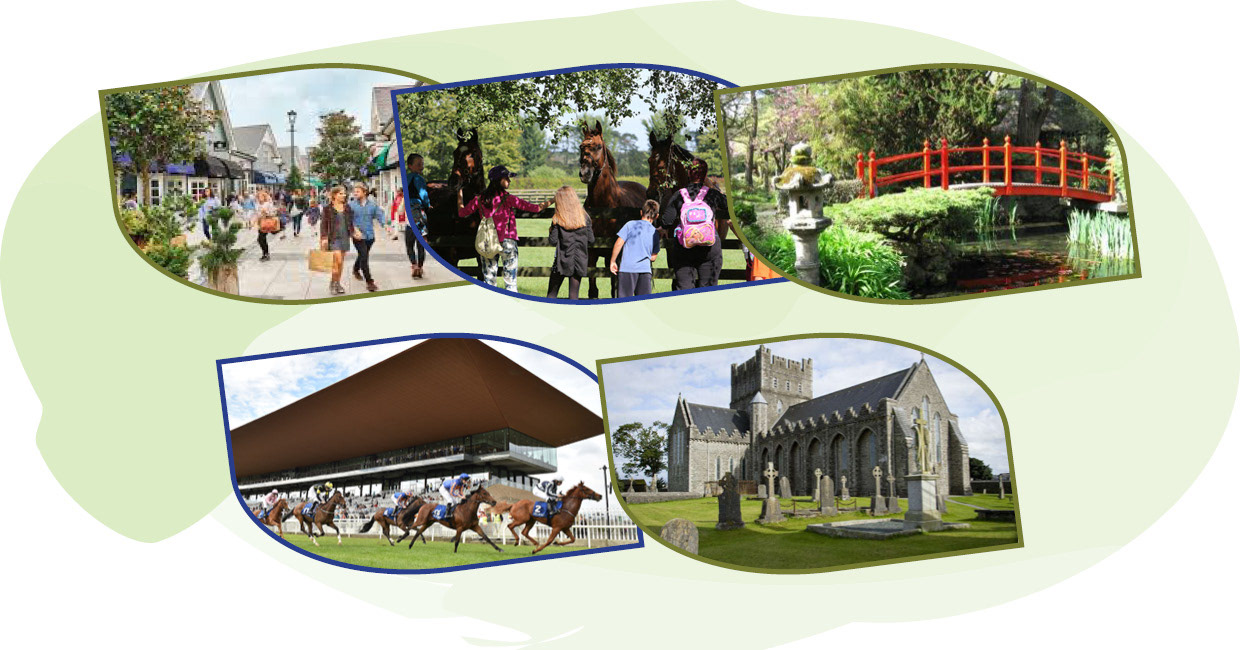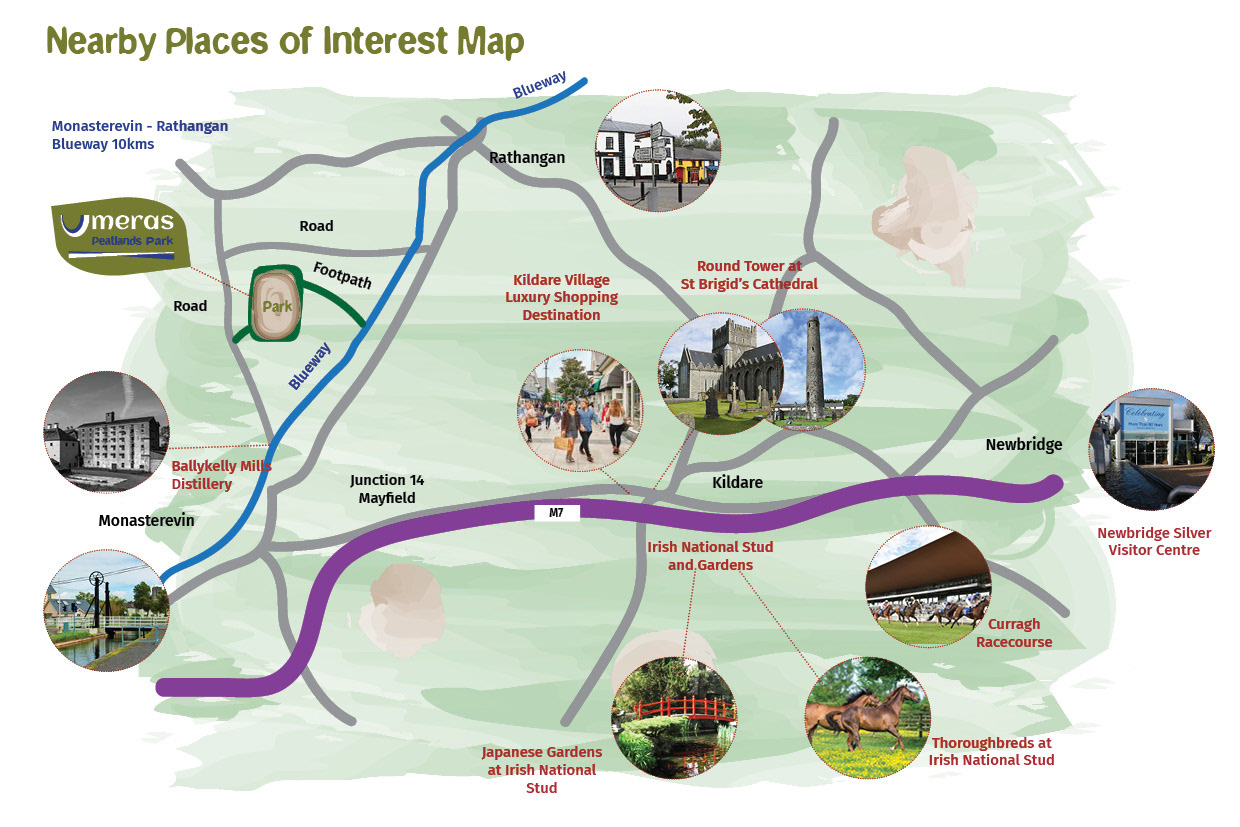 South Kildare Day-Trippers
Kildare Village Outlet
Ballykelly Distillery 
Umeras Peatland Park - Bog Train
Shuttle to Umeras Bridge
Barge to Ballykelly Locks
Chinese/Japanese tourists are visiting the Kildare Village Outlet in large numbers and Ballykelly Distillery will also attract these tourists with their premium whiskey brand. 
A special tour could be organized to suit their interests in seeing some Irish heritage and nature. 
For example, they could be taken by bus to Umeras Peatland Park visitor centre to visit a small exhibition on the heritage of the area in their language. They could then take the bog train to the raised bog and visit the sculpture park. After that, they could be taken by bus to Umeras Bridge and ride a barge along the canal back to Ballykelly Locks and the end of their tour. 
This premium offering would also be attractive to American tourists exploring the local heritage.

Cycle/walking routes from Monasterevin to Rathangan
Cyclists and walkers, particularly from the German market, are attracted to blueways offering a chance to experience rural tranquillity, heritage and nature. 
The Umeras Peatland Park would give them a reason to stop in the area for a night. They can walk or cycle the park and contribute to the local economy.

Base for Domestic Tourists
Domestic Tourists: 

Cyclists and walkers coming down from Dublin could base themselves around Umeras Peatland Park and explore the area. This would put the tourist hub on the Blueway route map and also attract day-trippers from other parts of the region.
Local People: 

The Umeras Peatland Park would represent a great local amenity to encourage more people to walk and cycle, 
to promote healthy lifestyles and an appreciation for their heritage and nature.